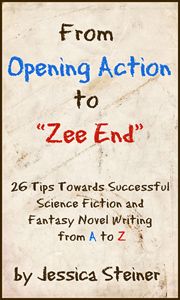 I have spent the last week or so preparing a book version of my April's A to Z Challenge posts. The book is compiled, and I've expanded on the posts, cleaned them up, and changed the titles on quite a few.
If you followed my blog through April, there won't be much that's new to you, but it is a new format and I worked hard on it. I hope that some people will find the format useful, with a table of contents that'll take you straight to the topic you're most interested in, and a Createspace version to put on the shelf for reference.
When I uploaded my book to Amazon for the Kindle, I got a rather strange email:
Hello,

We are writing to you regarding the following book(s):

From Opening Action to Zee End by Steiner, Jessica (AUTHOR) (ID:3617383)

During a review of your KDP submission(s), we found content that is widely available on the web. You can do an online search for the content inside your book(s) to discover which sites are offering the content for free. Copyright is important to us – we want to make sure that no author or other copyright holder has their work claimed and sold by anyone else.

To confirm you have publishing rights to and control where you distribute the book(s), please provide all of the following information:

1. The URLs for all websites where this content is published
2. An explanation as to why the content is available online
I got confused for a second, then I had a good laugh. Of course it was available online - it was from my own blog. I sent them an email with an explanation about the blog challenge and confirming that - so far as I knew - my posts weren't available anywhere else on the internet, and it was all cleared up within a day or so.
I have to say that for all that I was taken aback at first, I'm glad that Amazon is checking to make sure that books that are uploaded to their store aren't simply plagiarized material. There wasn't any question or argument once I had explained that it was my own words - they don't seem to be policing beyond that. Overall, I thought it was a good experience, and reassuring to at least some extent.